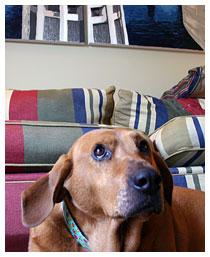 Last night I took the opportunity to consolidate all of the digital pictures that I've taken since I got my first digital camera. I brought them all into Picasa, I've discovered that I like it better than the Adobe Photoshop Album that I had been using. Now that Ludicorp has been bought by Yahoo I've given up hope for direct Flickr/Picasa integration, but it made sense to go that direction with my photo organization. I only really use Flickr for taking pictures with my camera phone, I guess I'm more of a do it yourself kind of guy, but I think it's a great idea. I do wish that Picasa sorted photos by date (rather than by folder) like Flickr and Adobe Photoshop Album does. I haven't played with the tagging features to know how they stack up.
In all, I've taken about 5400 shots with the various cameras since Christmas 2001, which currently takes up about 5.8 gigabytes on the hard drive.
Suprising Statistic of the Night: Suprisingly as it might be, only 350 of the 5400 pictures are of the Abbydog.