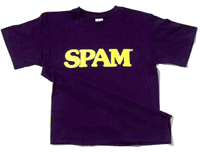 As you might could tell from my last post, last night I went to the Aimee Mann concert at Cannery Row. The show was good, though I thought the stage set up was kind of strangely placed. That said, a good time was had by all.
There was this one guy wearing a "SPAM" t-shirt as pictured to the right. At one point in the evening he passed in front of me, but I couldn't help but to stick my arm out to keep him from passing.
Tim: "I'm sorry sir, you can't go through here."
Shirt guy: "Huh?"
Tim: "No, its OK. I just always wanted to be a spam-blocker."
He didn't think it was funny, either.